"The way we think about investing is a lifestyle choice and is goal oriented.  Whether you are saving for your children's education or planning to buy your dream house, Sarwa can help you achieve those objectives.  Even if you want to retire and play golf every day … that's something that the Sarwa platform can help you do!"

~Nadine Mezher
Nadine Mezher joined Sarwa after years of experience in marketing and communication strategy with a track record of successful projects delivered for clients ranging from startups to government entities as well as large-scale companies. Prior to that, she was working for Dubai Tourism and Commerce Marketing, Government of Dubai in retail strategy and strategic alliances, in addition to festivals and events development. Nadine holds a Bachelor of Business Administration from the American University of Beirut with an emphasis on marketing, as well as a degree in design from Esmod Paris.
Nadine shared the story of Sarwa's founding and the core investment principles that guide their vision for retail investors in the UAE and across the region.  There's a ton to be learned from this episode and you can apply these concepts by opening an account with Sarwa today.
The Sarwa Team (from left to right)
Jad Sayegh CTO, Thomas Martres Web Developer, Danny Jabour Head of Wealth Advisory, Nadine Mezher CMO, Mark Chahwan CEO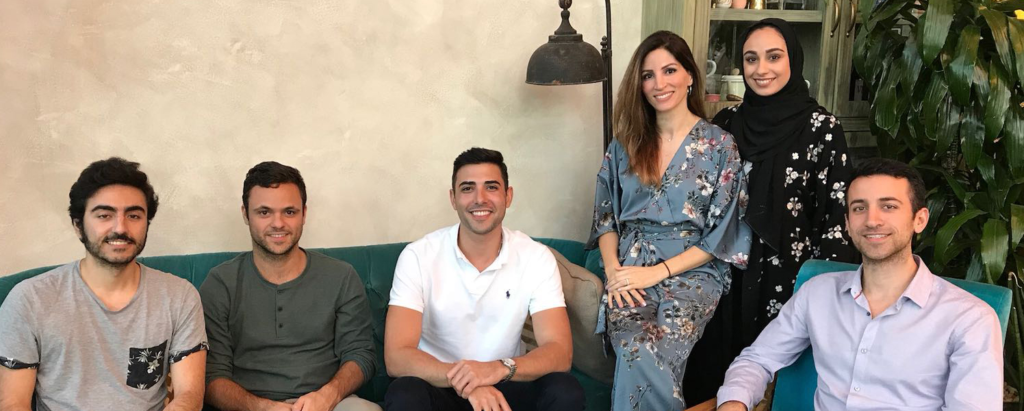 Enjoy the show!
Posted on April 23, 2018
Show Notes:
1:30 – The guiding vision of Sarwa as a retail investors platform
2:00 – How customers can get access to Sarwa and invest on the platform
3:15 – How Sarwa is a member of the Fintech Hive @ DIFC
4:00 – The founding story of Sarwa … about Mark & Jad identifying the opportunity for a robo-advisor platform in the UAE
6:00 – How and why Nadine joined the Sarwa team as the Chief Marketing Officer
7:00 – The two types of clients that Sarwa sees in the market and how they can serve them
7:30 – Why customer education is so core and critical to the mission of Sarwa
8:00 – The process Sarwa had to complete to get regulated in the UAE by the Dubai Financial Services Authority
9:00 – How Sarwa is helping the UAE move into the digital future with a Fintech investment platform
10:15 – An overview of the Sarwa investment philosophy … passive low-cost index investing
11:00 – Why investor emotions can be their own worst enemy to their investment success
12:00 – Why passive investing is an effective strategy versus active management
13:15 – How to get started with Sarwa with just $2,000 in your account, with no required monthly contributions!
13:45 – The Sarwa approach to Management Fees and costs
15:00 – The types of investment risk profiles that Sarwa customers can choose from
16:15 – Sarwa applies the Modern Portfolio Theory approach to diversification to limit individual equity risk
17:30 – How the lower fee structure offered through Sarwa can have a massive impact on your returns vs traditional Finance Managers
18:00 – The magic of compounding returns on your investment portfolio
19:00 – Sarwa's 4 core Principles of Investing
22:00 – Why inflation is an important component to calculating your total investment returns
23:30 – The experience of an entrepreneur in the UAE, particularly in the Fintech sector
25:00 – Why being aligned with your Co-Founders and team is so crucial to success for your Startup
26:00 – The challenges of being an entrepreneur and the secret to success
27:30 – Why investors in your company should be more than just a source of finance … they should be partners and advisors
28:15 – How to get the right people on your Board of Advisors
29:30 – The Sarwa Launch Event of the Beta platform and the timeline going-forward
31:00 – How investors can get access to Sarwa and open an account
31:30 – How you can meet with a Sarwa Financial Advisor to help guide you on your investment journey
33:15 – Customers can adjust their investment strategy over time in reaction to life events
34:15 – How Sarwa is reaching out to the public to provide free investor education … online and in-person workshops
36:00 – The Sarwa plan for expansion across geographies and markets
37:00 – How Sarwa wants to impact the culture of saving and investing in the UAE
Related & recommended episodes...